Originally posted to KornFerry.com on March 3, 2021.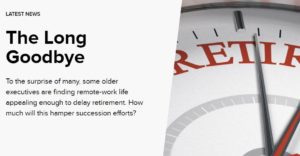 No more commuting to work. More time at the house with the family. And never setting foot on a plane for an exhausting business trip.
In one of the stranger twists of the pandemic, a small but surprising number of older executives have discovered they're arguably better off in today's remote-work world—enough to put off retiring. To be sure, they're still energized, working hard, and dealing with the work stress that the pandemic has brought on. "But I'm hearing the upsides are making it worth it to stay on," says Kevin Cashman, global leader of CEO and executive development at Korn Ferry.